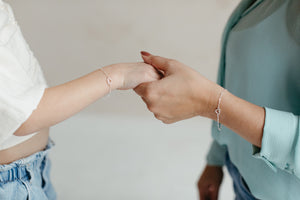 the spark bar - PERMANENT JEWELLERY
WHAT DOES THAT MEAN?
Permanent jewellery is custom fit jewellery with high end materials such as solid gold and sterling silver.
The jewellery is clasp-less, pain-less, and hassle-free. The process of choosing the chain and charms is the best part! Bring your BFF, sister, mom, daughter, significant other, etc. and get matching styles that are meant to be worn everyday for effortless style.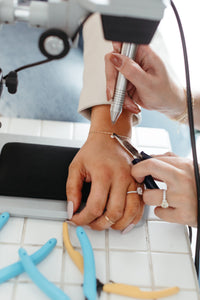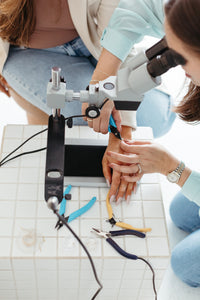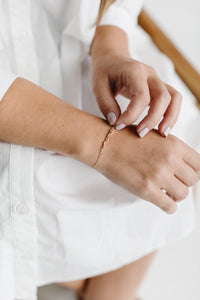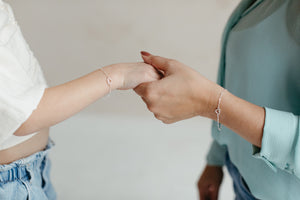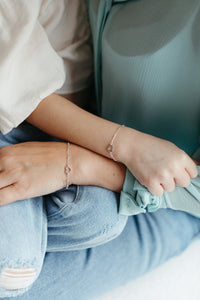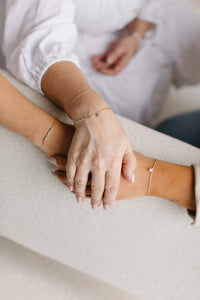 How It Works
01.
Choose a time slot to come in and get linked at Little Neary in Milton! Appointments are limited, so book in advance.
02.
CHOOSE YOUR CHAIN
Take your pick from our selection of sterling silver, solid 10k and 14k gold chains. Want more than one bracelet? Mix and match!
03.
GET LINKED
During your appointment, we'll fit your chain on your wrist and weld your permanent bracelet shut. Now you're linked for life!
The Spark Bar - Permanent Jewellery FAQS
WHAT IS PERMANENT JEWELLERY?
Permanent jewelry is a custom bracelet, anklet, or necklace sized just for you and welded together. Because the jewelry has no clasp, it is permanent! It's not something you take on and off when you go to bed or shower, but it can be removed with scissors if need be. 
DO I NEED AN APPOINTMENT?
Yes, currently our offerings are by appointment only.  You can book your appointment via this BOOK NOW button. We also suggest following us on instagram and turning on your notifications for our account since you may be able to snag last minute appointments.
DOES IT HURT?
Not at all! Despite the flash, getting zapped does not mean physically zapped :) We would never do that to you! It's just a little thrill.
CAN I BRING MY CHILD TO GET LINKED?
Yes — our minimum age is 4 years old to get linked. Anyone under the age of 16 must be accompanied by an adult. We do not weld bracelets on children under the age of 4.  


* Kids bracelets can have a clasp added so they are able to match with mom, but have the ability to be removed (no extra charge).
CAN I REMOVE THE BRACELET?
Simply a pair of scissors will do the trick. Remember to keep your bracelet in case you would like to but it back on (appointment required).
WHAT IF THE CHAIN BREAKS OR STRETCHES?
Worried about potential damages to your permanent jewelry? We've got you covered. Our delicate chains are chosen for their minimalist design and ease for everyday wear. If your jewelry were to break, we will do our best to repair it for you. Please note, we are not liable for lost chains.
WHAT IF I NEED TO REMOVE THE BRACELET? CAN I GET IT RE-LINKED ON LATER?
Yes! If you need to remove the bracelet for any reason, we recommend carefully cutting it (ideally at the small ring that connects the two ends of the chain, to maintain the integrity of the chain) with scissors, and if you wish to get it welded back on at a later date, we can certainly do that no charge! 
WHAT ABOUT AIRPORT SECURITY?
TSA won't ask you to remove fine jewelry when going through security. Your jewelry will travel with you no matter where you go! Keep in mind that you may be required to remove your jewelry during medical procedures such as X-Rays or MRI's. Consult your doctor if this will be required.