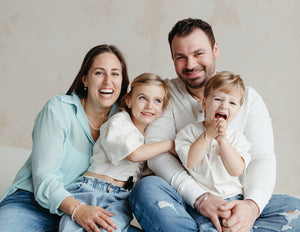 Meet Little Neary
To Natasha, her family is a huge part of Little Neary's story. Coming from a fourth generation of jewellers, she has been part of the industry her whole life.
After becoming a mom and piercing her baby girl's ears, she realized there were limited options available to her and decided to create something unique to celebrate this new chapter in her life and fill the void in jewellery specifically designed for children.
In 2019 she followed her dream and founded Little Neary, a fine jewellery line inspired by everyday moms and children, made to enjoy life and live in. This quickly became much more than just a brand, Little Neary became an expression of self and crafted personalized pieces inspired by your story. Our goal is to provide our customers with accessible quality pieces that bring joyful memories while offering the very best the world of jewellery has to offer.
Our online boutique offers a large selection of solid gold and sterling silver jewellery manufactured in the US, Italy and Canada. We take pride in knowing that every piece is made using fine quality and safe materials as well as conflict-free diamonds.
Now that you have found us, we hope you and your little one bring each cherished moment to life through each Little Neary piece of jewellery.